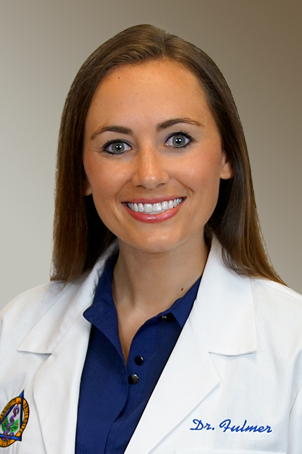 Kaleigh Fulmer McGhee, DDS
Dr. Kaleigh Fulmer McGhee is the oldest daughter of Dr. James and Pam Fulmer. She grew up in Kenosha and graduated from Tremper High School in 2007. She went on to earn her bachelor's degree in Biology in 2011 at the University of Wisconsin-Madison. Following in her father's footsteps, she then attended Marquette University School of Dentistry and graduated with a Doctorate of Dental Surgery in 2017. Kaleigh is very excited to live and work in her hometown.
Dentistry has always been a passion of Kaleigh's, as she spent countless hours in the dental clinic throughout her childhood. As the daughter of a dentist, it is a dream come true for her to practice with her father and continue in the Fulmer tradition of providing excellent dental services for their patients.
When she's not helping others achieve healthier lifestyles and bigger and brighter smiles, Kaleigh's a thrill seeker who enjoys sky diving and zip lining. Her hobbies include playing volleyball, golf, bike riding, spending time with family and friends, being outdoors, traveling and – especially –  cheering on the Badgers, Packers and Golden Eagles.
Professional Organizations
Kenosha Dental Society
Spear Study Club
Personal Statement:
I'm excited to provide dental care for the whole family, in a comfortable and friendly environment, building bonds that last a lifetime (pun intended). I believe the foundation for excellent dentistry begins with trust and developing a strong dentist-patient relationship. Without that, no dentist can deliver the highest quality dentistry and provide an excellent patient experience. It's my mission to listen to and understand each patient's individual needs and concerns and make sure they are aware of any and all treatment options. I'm passionate about my profession, but I am also passionate about my community. I've been blessed with a great family and many opportunities and know the importance of giving back to others. When I am not at the office, you may find me volunteering or serving the community through various service organizations and projects. Although I've learned a ton from two of the best, Marquette Dental and my dad, I know it's important to never stop learning. I'm excited to network, learn best practices from others in the industry, and continually embrace and work with the latest trends in technology.