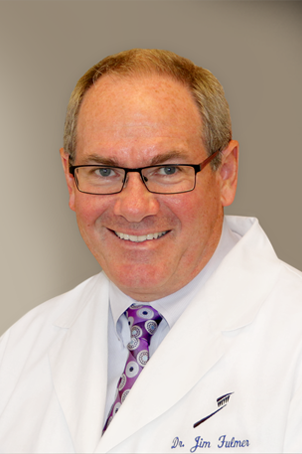 Dr. Fulmer is a fifth generation Kenoshan and the eighth of nine kids born and raised here. He and his wife Pam have raised two daughters, Kaleigh and Sophie. He is part of a family that includes eleven dentists. Most recently, Dr. Fulmer's daughter, Dr. Kaleigh Fulmer, joined him in practice after graduating from Marquette University School of Dentistry in 2017.
He loves dentistry and finds it as fun and gratifying as the day he graduated. Dr. Fulmer cites the passion of his team and the lasting relationships his career has allowed him to build as integral parts of his love for his career. Observing a new smile and helping his patients towards better dental health are the rewards he sees for his continued service.
A graduate of the Marquette University School of Dentistry in 1985, he wasted no time forging ahead in his chosen field. He completed a one-year residency at the Olin E. Teague Veterans Administration Medical Center in Temple, TX as well as a General Practice residency, something that is only completed by 5 percent of general dentists.
Dr. Fulmer has accumulated over 2000 hours of advanced dental study and is an alumnus of the prestigious L.D. Pankey Institute for Advanced Dental Education.
Professional Organizations:
Edge Dental Study Club
Kenosha County Dental Society
Southeast Wisconsin Implant Study Club
Personal Statement:
I feel a special bond with the city of Kenosha and love being able to contribute and give back whenever I can. I am a former President of the Rotary Club of Kenosha – West, former President and current Treasurer of the local dental society, President of the Kenosha Softball Hall of Fame, co-commissioner of the Rotary Softball Tournament and past board member of the Kenosha County Historical Society. I've also coached youth baseball, basketball and soccer. When free I find time to mentor students at the Marquette University School of Dentistry.
Outside of the office I enjoy travel, golf, reading, history, bird hunting, Harley riding and of course, rooting on Marquette basketball.