The Kenosha Literacy Council celebrated  it's 50th anniversary at a banquet Saturday night at the Kenosha Country Club. This year the council  presented  it's first annual Howard J. Brown Family Literacy Leader Awards.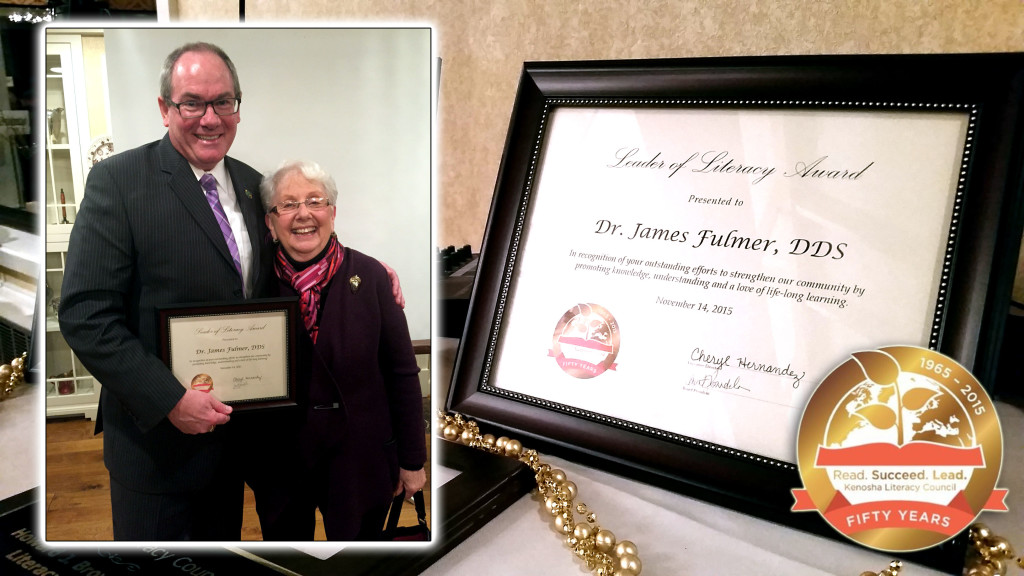 Receiving the award for an individual is our own Dr. Jim Fulmer. This is a major award and Dr. Jim is humbled to receive it
"I never really thought too much about literacy," Dr. Jim stated. "I always just assumed that anybody who really wanted to, and who paid attention, could read."
His appreciation of the importance of literacy education for adults was enhanced when Cheryl Hernandez, Executive Director of the Kenosha Literacy Council, spoke to the Rotary Club of Kenosha-West, of which Dr. Jim is a member.
"I thought the information she shared with us was incredible," he said. "The impact of literacy is so far-reaching it is difficult to measure. For employment, health, safety, betterment of community, etc., reading is essential."
The thing that impressed Dr. Jim the most from Cheryl's presentation was the fact that the single greatest determinant in a child's academic success is the reading level of that child's mother. "How can a second generation immigrant succeed if mom doesn't become literate?" he asked.
Dr. Jim has had first-hand experience with literacy challenges at his dental office. "For years, I employed a Spanish-speaking dental assistant," he said. "When a Spanish-speaking patient came in, it was amazing to see the look in their eyes when they realize that they would be understood."
"It is very humbling to receive this award, especially since it is named after a community hero and so many others are more deserving" he said.